Unlocking Interactions with Purpose and Precision: How Questions Can Free You From Ineffective Meetings
Our lives are becoming more complex and busier than ever. We live in a world of pings and chimes, which signal more inbound emails and more upcoming meetings. Bill Gates recently predicted that up to half of companies will have employees come into a physical office in hybrid fashion - one week out of four in the office. This change is to be expected as people increasingly can and do work remotely.

In 2018, Harvard Business Review (Michael Porter and Nitin Nohria) conducted a study of how CEO's spend their time. The findings revealed CEO's spent more than half of their time in meetings with high-level executives at their own companies. They also outlined that CEOs initiated 51% of all meetings themselves. A graphic of CEO meeting time across different groups humorously conveys the sentiment: Hanging (Mostly) with the Homies.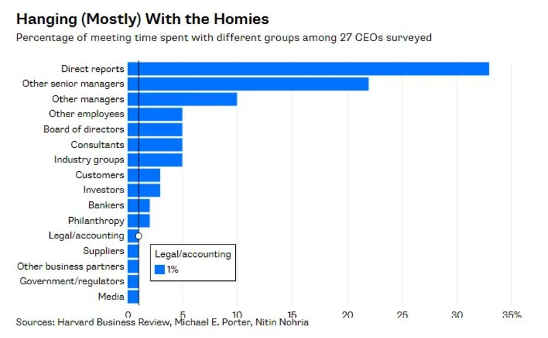 Perhaps you resonate with this experience: much of your week is spent in meetings with direct reports or other managers and employees. Many of these meetings are those you initiate yourself. Others arrive from managers or colleagues. How many of those do you consider effective? While much has been written about time management techniques or "productivity hacks," the purpose of this article is to outline a far more basic and powerful technique to drive success. It involves asking key questions to break the culture of meeting ineffectiveness and help yourself (and others) plan interactions and meetings that are more purposeful and precise.

Meetings are a central component of organizations. They serve as key vehicles for communication, response plans, collaboration, relationship building, and employee involvement. MIT Sloan Management Review summarized that the single most powerful factor in job satisfaction was how one feels about the effectiveness of the meetings they attend. Our 2020 State of Online Meetings Report™ revealed unfocused conversations lead to results not being achieved and lower employee engagement. So, while meetings are central to every organization, the culture to make meetings more successful must change from the inside out. This can begin by developing leaders in core meeting skills and by empowering all employees to ask questions.

---
Asking Key Questions of Yourself
When it comes to planning a meeting, it is important to set a good model for others. Before sending a calendar invitation, ask yourself:
What is the intended purpose of this meeting?

What are the tangible outcomes I hope to achieve? (e.g. an agreement, a list, an understanding)

Who should be involved?

How much time is necessary?
We've written much before about the power of Desired Outcomes. However, it's the simplicity and memorability that has fueled thousands of Interaction Associates learning participants to say, "yes, that's it. That's the concept and framework that changed my life and my meetings." Sometimes, simple is better.

Tip: take a few minutes before sending out a calendar invitation to craft your Desired Outcome statements. Focus on precision and include your statement within the calendar invitation itself.
---
Asking Key Questions of Others
When it comes to receiving inbound meeting invitations, asking a follow-up question to solicit more information has the power to create change and focus. This is especially apparent when asking a question goes against the social norms or culture. I'd bet a vast majority of calendar invitations you receive are 'ghosts' of a meeting – subject line, attendees, Zoom link, time - without additional details.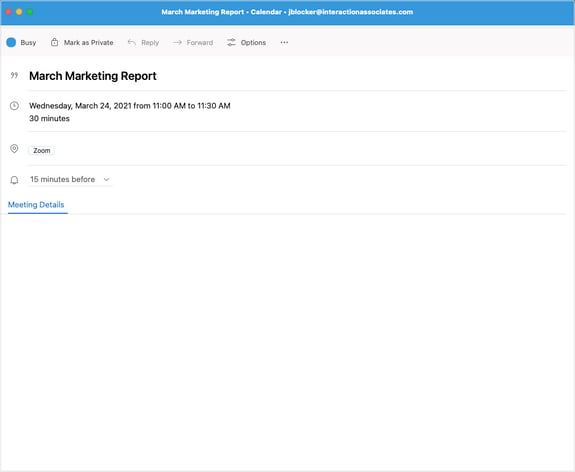 So, when the next calendar invitation ping ensues, don't click 'Accept' in default fashion. Instead ask the organizer: "What are the desired outcomes for this meeting?" or "Thanks for the invite – can you tell me more about how I should prepare?"

Initially, this can seem unnerving, especially if the meeting initiator has seniority. However, keep in mind that your time is valuable. To create more purposeful meetings, it must begin with more purposeful planning. Asking questions that solicit information helps build the planning muscle.
Tip: Ask if there are desired outcomes for the meeting. If not, offer to assist the meeting organizer to craft a precise statement. This can be an opportunity for teaching and learning.

---
Conclusion
Change is hard but rewarding. Interaction Associates once had a client executive who was so adamant about employees learning and practicing that he declared and gave permission for any employee in the company to decline a meeting invitation if it was missing Desired Outcomes. Wow! Talk about creating change.

With the proliferation of cloud-based calendaring systems, scheduling meetings has become easier than ever. It has also made it too easy to accept an invitation without clear desired outcomes – and thus without clear results. Whether you are an organizer or an attendee, you have the power to be the change you want to see.
Looking to improve your online meetings? Check out our popular program Tame the Online Meeting Monster™ where you'll learn essential skills for running effective online meetings.
About Chris Williams
Chris' experience includes work in operations, recruiting, and complex research. He has supported senior-level executives in a variety of industries including economic development, government contracting, and strategy consulting. Chris holds a BA in Political Science from the University of North Carolina at Chapel Hill and a Masters in Public Administration (MPA) from the University of North Carolina at Wilmington.