Pressure Testing Your Leadership Pipeline
As the economy strengthens, many organizations are coming to grips with leadership challenges – and, specifically, the need to more quickly develop a deeper bench of future leaders. The unrelenting war for talent and the pace of Baby Boomer retirement patterns are two of the issues fueling the leadership imperatives at many organizations.
A recent study by Korn Ferry highlights leadership pipeline realities that few executives would argue with: Leadership at all levels matters, the best leaders are agile learners, and developing leaders requires investment. While "buying" fully developed leadership talent has its place, many companies have learned the hard way that importing leadership talent, rather than growing their own, is no panacea.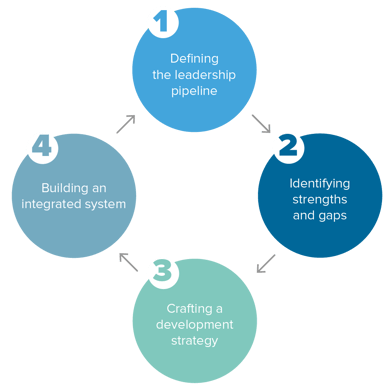 Facing facts, even those companies with a track record of success in leadership development have hard choices to make. The "spray and pray" methods of the past are fast falling by the wayside as HR executives identify the critical few groups, positions, and competencies that require attention at any given time.
Learn more about building the leadership pipeline and how IA can help.
About Patty McManus
Patty has worked in the fields of Organization Development and Learning for over 20 years. In the first 10 years of her career she was an internal consultant at University of California-Berkeley, Kaiser Permanente, and Apple Computer. Since she joined Interaction Associates in 1997, she has consulted across a broad range of clients and projects. In addition, she has held several leadership positions in IA over the years. She holds a bachelor's degree in general psychology, a master's degree in industrial/organizational psychology (both from San Francisco State University), and did post-graduate internships at both Kaiser Permanente and the Stanford Business School.