Stop Measuring Productivity and Do This Instead
How do you measure the success of employees who may be in the office, working from home, or function in a hybrid fashion? This is especially relevant today when movements like return to office (RTO) and working from home (WFH) are battling it out.

I recently was traveling and overhead a conversation while in line for the only coffee shop in the airport terminal. I'll paint the picture: there were three individuals, and based on their matching and branded jackets, I surmised they all worked for the same company – a well-known, brash millionaire who focuses on inspiring entrepreneurs to build passive income. I gathered from their conversation that two of the individuals were sales representatives and one was the sales manager. At one point the Sales Manager says, "I can totally tell who is not engaged and not productive – all the people that leave the office at 6:00pm!". My head swiveled, and I thought internally to myself, "Whoa, should productivity and engagement be measured by physical visibility and hours clocked?"
As a self-proclaimed productivity champion, I'm a big supporter in developing the right mindset and skillset for all employees to perform at their highest caliber and potential. Productivity frameworks and time management tools such as time blocking, batching, flow state, deep work, Getting Things Done, and the Pareto principle are all effective in different ways.

Productivity is a hot topic indeed. Microsoft recently conducted a 2023 Work Trend Index that surveyed 31,000 people. Their findings: the inflow of information like emails, chats, meetings, and notifications is overwhelming our ability to process. 64% of workers say they don't have enough time and energy to complete their work. Across the media, you also see countless stories of major CEO's speaking out about low worker productivity.

Employee monitoring technologies are being used on employee computers to detect mouse and keyboard movements, categorize visited websites as productive vs unproductive (e.g. YouTube), and record the time spent logged on. Digital.com found that 60% of companies with employees who work remotely are using some sort of monitoring software.

While monitoring software and "productivity tracking" may have its specific merits in certain places and for compliance reasons, I propose leaders reframe their thinking about how to measure success. The root of many productivity problems can be traced back to high-stress, burnout, poor management/accountability, poor focus, and lack of skills or resources. Working longer hours doesn't necessarily correlate to better results. Productivity is closely tied to results or output. And, while it's very important to measure results, it's impractical to assume this is the full picture of success – or that activity levels are the only thing that matters. Effective leaders understand that success is multifaceted.

Instead, we should focus on addressing these root issues while measuring success in a multi-dimensional way across results, process, and relationships. By using this multi-dimensional approach, leaders can see the full view of the success of an individual, a team, or an entire organization. This approach can be used in a macro approach on things like overall company success or even as micro as a team meeting. In this article, we'll briefly outline each dimension, how they're used to measure success, and how you can apply it.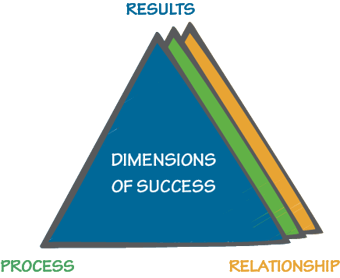 Results:
Results measures what you are trying to accomplish. It is where most formal leaders' default and primarily what they get paid to deliver. Did you meet the requirements? Where results produced of high-quality and within the time constraints?
For instance, to measure the error rate, leaders can set an example target of reducing the error rate from 6/1000 to 1/1000 within six months. Similarly, to measure the number of units produced, leaders can establish a target of producing 1500 units every seven days. Return on investment could also be a useful result to measure, with a target of achieving a 14% ROI within twelve months.
Process:
Process is another dimension that leaders should consider when measuring success. This dimension involves assessing how the work gets done, how it is designed and managed, and how it is monitored and evaluated. Leaders should ensure that the process used is clear and logical, efficient, and appropriate for the task.
For example, leaders can set a goal of achieving 100% process documentation or that inbound leads are followed up on within two business hours. They could also set a process goal that all calendar invitations include written Desired Outcome statements to keep meetings focused and use people's time effectively.

Relationship:
Relationships are the third dimension that leaders should consider. This dimension involves assessing the sense of inclusion and connection, feelings of confidence and competence, and experience of trust, support, and appreciation.
For instance, leaders can set a personal goal of privately acknowledging and celebrating the success of two colleagues each month or scheduling one day per week where one has an in-person lunch meeting with a colleague to deepen the connection.
In conclusion, we recommend measuring the results, the process, and the relationship to get a more balanced view of success. By focusing on these dimensions, leaders can ensure that team members are clear on the outcomes, reflective and engaged in the process, and have the trust, support, and appreciation to drive long-term and sustainable results.

If you'd like to learn more about this concept or building leadership bench strength, consider exploring Facilitative Leadership®.

About Chris Williams
Chris' experience includes work in operations, recruiting, and complex research. He has supported senior-level executives in a variety of industries including economic development, government contracting, and strategy consulting. Chris holds a BA in Political Science from the University of North Carolina at Chapel Hill and a Masters in Public Administration (MPA) from the University of North Carolina at Wilmington.