7 Practices of an Effective Leader
As a Director of Client Solutions at Interaction Associates, I hear a lot of stories from individuals about their unique learning and development needs. Lately, I'm starting to identify a common pattern among our Interaction Associates' lifelong fans that have shifted careers or moved companies. I recently spoke with one of those fans. The conversation resulted in a light bulb moment for me around what so many organizations must be facing right now.
She first experienced our methods and models years ago at the Stanford University Manager Academy. Currently, their company recently merged with a similar company with a very different culture and management style. As the new leader of the rebuilt Learning and Development department, she has the arduous task of creating a multi-faceted learning pathway for the entire company that just doubled in size. Safe to say, she is experiencing a lot of change.
She tells me that some of their more senior leaders are lacking facilitation skills while other, younger managers don't have the business acumen to match their superb PhD and technical skills. On top of that, they don't know how to effectively communicate with each other. When she considered L&D providers, she remembered Interaction Associates for their expertise in building strong, effective leaders. She knew that everyone at her company could use some applicable tools and methods to meet, lead, and work better together.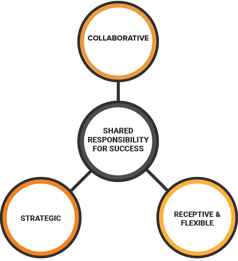 Whether you're going through a merger or acquisition, planning on how to get back into the office, or simply building a baseline of how your team or organization collaborates, strong leadership is crucial.
There are a lot of buzz words in learning and development when it comes to leadership: The Agile Leader, The Strategic Leader, The Collaborative Leader. The one you won't find too often is the Facilitative Leader.
What do I mean by a Facilitative Leader? I mean a leader that is all of these things but also shares responsibility for success and knows how to consciously balance all three.
---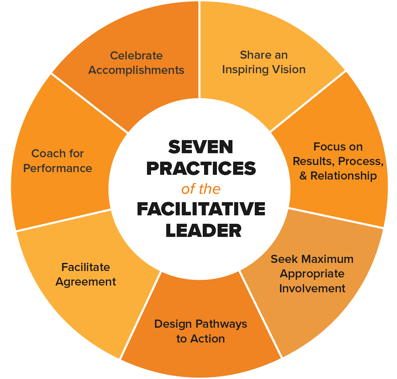 Interaction Associates has developed the seven practices of a Facilitative Leader. This model has been used by thousands of organizations around the world. It does not matter if you have never led a team or you have 20 years of experience being a leader, these practices comprehensively capture the essence of Facilitative Leadership®.
To understand the Seven Practices of a Facilitative Leader, think about leaders within your organization. Now identify one leader to focus on (or consider yourself) as you read through these practices. Do they exhibit these necessary skills? How might a team or organization improve if they did have these skills?
---
Is your leader able to Share an Inspiring Vision in a way that enrolls others?
Have you ever heard them say something where you were so ready to get behind them and support them in whatever way they needed?
Why is this important?
By sharing an inspiring vision, a leader creates and communicates an inspiring image of the future and enrolls individuals in the pursuit.
---
Does your leader know how to set someone up for success with clear expectations around tangible results, detailed processes, and collaborative relationships?
Do they take time to evaluate their team's decisions or output by checking that these three areas are always in balance?
Why is this important?
Leaders should know that achieving outstanding results is only one part of success. Success is also measured by how the work gets done (process) and the way people treat each other in the workplace (relationship). They understand that without strong relationships and clear processes, lasting results are difficult to achieve.
---
Does the leader clearly share their decision-making method?
Do they involve the right people at the right time to really listen to other perspectives before making or delegating a decision? Do they Seek Maximum Appropriate Involvement?
Why is this important?
Leaders gain commitment from individuals by involving them in the decisions that affect their daily work experience. A facilitative leader clearly communicates how decisions are made and who is involved. This helps the leader achieve their goals and builds clarity and momentum.
---
Are they able to Design a Pathway to Action and help follow-through on the implementation?
Do they make sure they are solving the right problem before they jump to solutions and potentially cause more problems?
Why is this important?
By building this road map, effective leaders create confidence that the goal is attainable, and they increase the likelihood of successful implementation. A facilitative leader ensures that in a series of conversations, the group is in the same "space" at the same time, taking time to explore deeply and build alignment around the problem, vision, and solutions before moving forward to implementation.
---
Do they know how to make everyone feel psychologically safe in a meeting?
Are they able to Facilitate Agreement between major stakeholders so all parties feel heard and not defensive or shut down? Not solely group understanding but rather facilitating through open and safe dialogue to gain group agreements.
Why is this important?
Agreements enable people to work together in pursuit of a common goal. By demonstrating how to build agreements and understanding, leaders encourage teamwork and set a collaborative standard for the entire organization. Agreements are the currency of collaboration and the hallmark of a Facilitative Leader.
---
Does the leader feel like a trusted, knowledgeable coach?
Are they able to successfully Coach for Performance? Do their direct reports feel more encouraged or open for feedback?
Why is this important?
Effective coaching yields more than improved performance; it also increases personal satisfaction, inspires a commitment to excellence, and fosters the coachee's development as a leader. A facilitative leader balances inquiry and advocacy during coaching moments and everyday interactions.
---
Does the leader Celebrate Accomplishments in a way that feels authentic?
Does the leader know the way their team wants to be celebrated? Have they asked?
Why is this important?
By understanding individuals and celebrating contributions and achievements of individuals and teams, leaders foster pride, self-esteem, and commitment.
---
In our new, post-COVID world, I feel a pendulum shift back to humanity. Whether you are an HR professional, project manager, or the CEO, your people need consistency, safety, and a connection with each other around the work that they do.
Leaders should strive to be Facilitative Leaders that practice these seven practices, lead by example, and pass on this knowledge to everyone they meet.
Learn more about our flagship program, Facilitative Leadership® and how you can bring it to your organization.
About Eve Keller
Currently, Eve serves IA as a Director of Client Solutions. Prior to IA, Eve worked on multiple federal and state contracts supporting the Centers for Medicaid & Medicare Services (CMS), the Federally Facilitated Marketplace and the Department of Education as a project manager and master instructional designer. As a former educator, she has a passion for teaching and learning in a variety of ways that includes mounds of positive encouragement and motivation.