Insights from Pop!Tech: Collaboration and Connectivity to Aid a Hurting Planet
Thu, 2007-10-25 12:13 — Beth ONeill
Insights from Pop!Tech: Collaboration and Connectivity to Aid a Hurting Planet
From mavericks and mainstreamers, all were intent on integrating technology, purpose and passion to make a difference.
Last week, we attended Pop!Tech, an annual gathering in Camden, Maine, billed as a "one-of-a-kind conference, a community of remarkable people, and an ongoing conversation about science, technology, and the future of ideas." For the past decade, Pop!Tech has been building and inspiring a community of committed global change-agents.
For three days, we engaged with creative artists, environmentalists, corporate execs, inventors, educators, geeks, gurus, youth, and senior citizens: an exciting mix of eclectic people and engaging topics, and a myriad of activities. From mavericks and mainstreamers, all were intent on integrating technology, purpose and passion to make a difference.
What's clear is that technological advances are creating life-saving, planet-saving, business generating, and artistic innovations. And the highest force for impacting the future is created when technology is combined effectively with one-on-one human interactions.
Toward a for profit/nonprofit synergy
We were particularly impressed with two remarkable people we'll touch on here. First, there's Victoria Hale, Ph.D., CEO and founder of the Institute for OneWorld Health. Hale is a visionary leader who invented a unique organizational model - the first nonprofit pharmaceutical company - to capitalize on late-stage biotechnology and pharmaceutical research that holds promise for curing infectious diseases long neglected in the developing world. Her vision encompasses not only new technologies, but also seeks to identify existing drugs that may have therapeutic value for tropical infectious diseases.
What makes OneWorld Health particularly effective is that it separates profitability from a drug's potential to cure disease. Hale has created a way to expand the value and use of pharmaceutical technologies, rescuing potential medicines from obscurity to develop the new medicines urgently needed by millions of people worldwide. She pointed out that, although challenging and difficult, the actual drug development is the easy part. The hard part is collaboration. She stressed the difficulty of balancing the cultures, disciplines, and perspectives involved when so many people have a high stake in the outcomes.
One of her most profound statements was this: How you do your work is as important as what you do. For achieving maximum impact, how the work gets done is crucial - and collaboration and trust are essential to success. Her suggestion is that we break down silos, work with others who "aren't like us" - or even make us uncomfortable - so that we can bring lifesaving drugs to the world. Hale's vision of a partnership between for - and not-for-profit companies is one we share, and embody, with the Interaction Institute for Social Change.
Responding to slow change, urgently
Dan Gilbert's presentation was also exceptionally thought-provoking. A Harvard psychology researcher known for his studies on human happiness, Dan speculated on Friday about the human psychology of risk. People instinctively respond quickly to threats. Global climate change is a major universal concern that, for some reason, hasn't been responded to urgently. Why is that?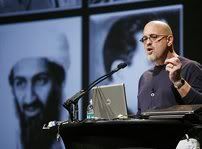 Gilbert (above) revealed an ingrained adaptation pattern in the human brain that may explain this phenomenon. Our brain is adept at responding to threats that have these features in common:
1) urgency
2) a human face
3) moral repugnance
4) threatens the present, not the future
For example, it's easy to grasp the urgency of, say, capturing Osama bin Laden. He is an imminent threat. This threat has a human face, and his actions are morally repugnant.
Gilbert points out that global climate change doesn't get the same urgent response out of us because it's not happening fast enough to alert us to the extreme amount of danger. For this reason, Gilbert stresses the deadliness of global climate change. Recognizing and responding to gradual change is a skill we need to self-evolve in order to overcome bigger-picture threats.
Pop!Tech is an explosive experience; it opens your eyes and makes it impossible to ignore the challenges we're facing as a species on the planet. We agree that hope lies in silo-busting and establishing connectivity and collaboration among non-profit and for-profit businesses, individuals and communities – both local and global.